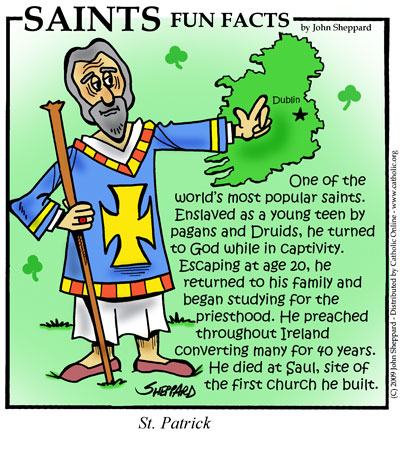 My mischievous little leprechauns, up to their old tricks.
We started today with green banana bread and watched an instant Netflix movie "
The Secret of Kells
." It was the only Irish movie on instant I could find, and was surprisingly good and interesting.
and this:
For Lunch we had Beef Brisket, Boiled Potatoes and Boiled Cabbage. The kids didn't like it very much, but Tom and I loved it! Looked something like this:
Our craft of the day is "T" is for Trinity. I didn't have the supplies for
Catholic ABC's lacing a shamrock craft
, so we made these. I cut out pieces and foam stickers, tracing their positions on paper.
The kids pieced them together very well.
To earn their afternoon snack, they were asked to do a Cleaning Treasure Hunt. They clean up their messes to reveal gold coins.
They can use the gold coins to buy the pot at the end of the rainbow!
1.
Chocolate Chip Cookie Mix with cocoa powder, and I added purple and green food coloring to get it really dark.
2.
Make thumbprint indentations for the rainbow of mini M&Ms.
Bake and enjoy!
Tonight for supper we will be having Reubens! Corned Beef, Swiss cheese on Rye bread. GREEN broccoli for veggies. And GREEN mint ice cream or McD's shamrock shakes for dessert.
You saw this on: