We're at the end of
Catholic Icing's Catholic ABCs Preschool lessons
, and we'll be making some wonderful crafts we'd like to share. Many links by clicking on the underlined words. I'll add our finished project pictures when they're ready.
>
123 and A-K
rafts
>L-P: LMNOPreschool
>
QRSTUV
ery nice ideas
>W-Z below
W is for
World
,
<pic by CatholicIcing
>Oriental Trading's
Whole World Craft Kit
(W is also for: Wine,
Whale
(w/
Jonah
), Wisdom)
X is for
eXalt
What does it mean to Exalt God? It is how we praise and thank God with what we say, think and do. The best way to praise God is through prayerful song - Praise and Worship music. The Psalms of David talk a lot about exalting God and singing and dancing for the Lord. This is a great opportunity to make a music instrument: a
Xylophone
!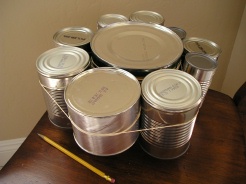 Tin Can Xylophone Directions
Rainbow Glass Xylophone
>>
Be Exalted song w/ Lyrics
>>
He is Exalted song with Lyrics
(X is also for: eXpectant mother, taX collector, waX candles in church,
St. Francis Xavier
)
Y is for
church/liturgical Year
To make the calendar above,
go to this website
, click on each image and print/cut/paste. OR
Print this document
I put together with all on one 8.5x11" page.
I really like
Family Formation's Liturgical Cycle Calendars available at this link
, and at the MN Catholic Homeschool Conference. You can buy them plain or colored/laminated.
<
this book at Amazon.com
>How to create a
Liturgical Pie Chart
Books for Liturgical Year activities:
A Treasure Chest of Traditions for Catholic Families by Arma Dei
A Year with God by Catholic Heritage Curricula
<Printable weekly Mass sheets for kids.
>>
USCCB Liturgical Calendar
[Also, Y is for Yahweh, Yearn, Youth, You,
Yoke
("For my yoke is easy and my burden is light" Matthew 11:30 - a pair of Oxen with a yoke/harness)]
Z is for
Zacchaeus (Luke 19)
>>Zacchaeus Activity Sheets and Games
He was a short man, so use this lesson to measure your kids and climb in trees or forts! Also work on church offerings and money for the poor.
[DaniellesPlace.com - Zacchaeus Tree Game and Craft]
Coloring Sheet: Zacchaeus in the Tree and Jesus below, and another coloring sheet here.
Make a Money Bag Craft or a bag with a Zipper!
In the theme of Tax Collectors, you might watch Disney's Robin Hood?
>>Zacchaeus Songs
[Youtube: "Zacchaeus was a wee little man" with actions], also on Veggie Tales Sunday Morning Songs CD.
[Donut Man "I got to see Jesus, my name is Zacchaeus"]
>>Luke 19 The Parable of the Talents
[Parable of Talents Worksheets]
[Parable of Talents Coloring Sheet]
Z is for
Zion (City of David/Jerusalem):
>Isaiah 23-37:32 For out of Jerusalem shall go forth a remnant, and they that escape out of mount Zion: the zeal of the LORD of hosts shall do this.
>Come Let Us Go Up song about Zion
>Blow the Trumpet in Zion Dance
[Z is also for: Zebra, Zipper, Zoo, Zeal, Zealous, Zealot, Ziti, Zone, Zing, Zip, Zap, Zoom, Zygote, Zig-Zag, Zany, Zircon, Zinc]
OTHER RESOURCES FOR CHRISTIAN ABCS:
by Lacy @ Catholic Icing
Catholic Icing:
Liturgical Year Ideas
Christian Preschool Printables: Bible ABCs
Christian Character ABCs
Christian Symbols A-Z
Catholic Toolbox